What is Sattvic Food?
Sattvic Diet is a purely plant-based diet. This diet includes sattvic foods, foods that are living in nature, are unrefined, and are unprocessed.
Apart from this, the sattvic diet has its roots associated with plant-based meals that are locally grown, freshly cooked, and lightly seasoned.
Why Eat Sattvic Foods?
Sattvic is a Hindi word that comes from "Sattva" which is a Sanskrit word meaning pure, light, and energy giving.
Ayurveda has proven that by simply switching to a sattvic diet we can fully cure any chronic disease without any medicine.
Also, Sattvic foods have this tendency to bring mental peace and emotional stability.
It has been observed, that people who gradually keep on eating sattvic foods for a longer run have started to face a change in their negative thoughts and emotions.
They feel more conscious and become more closer to Mother Nature and God.
Sattvic Vegetable Cutlet Recipe
So, to follow a sattvic diet we need some delicious recipe ideas as well because the preparation and procedures are quite different from daily Indian cooking.
Basic Rules of Sattvic Diet:
No Sugar (instead use dates and jaggery)
No Spicy Spices (use fresh herbs instead)
No Oils (instead use whole raw/dried/fresh nuts)
No Animal-Based Dairy Products like milk, ghee, or butter (instead use plant-based dairy)
Ingredients
For Cutlets:
100 grams Quick Oats
1 Cup Diced Carrots
1 Cup Diced Potatoes
1 Cup Diced Green Beans
1 Cup Diced Ripe Pumpkin
1 Cup Diced Green Capsicum
1 Cup Peeled Fresh Green Peas
For Seasoning:
1 Fresh Green Chilly
1/2 Tbsp Black Pepper
1 Tbsp Pink Himalayan Salt
1 Tbsp Freshly Chopped Coriander
For Nut and Seed Crumbs:
50 grams Raw Peanuts
1/4 Cup Organic Sunflower Seeds
1/4 Cup Organic White Sesame Seeds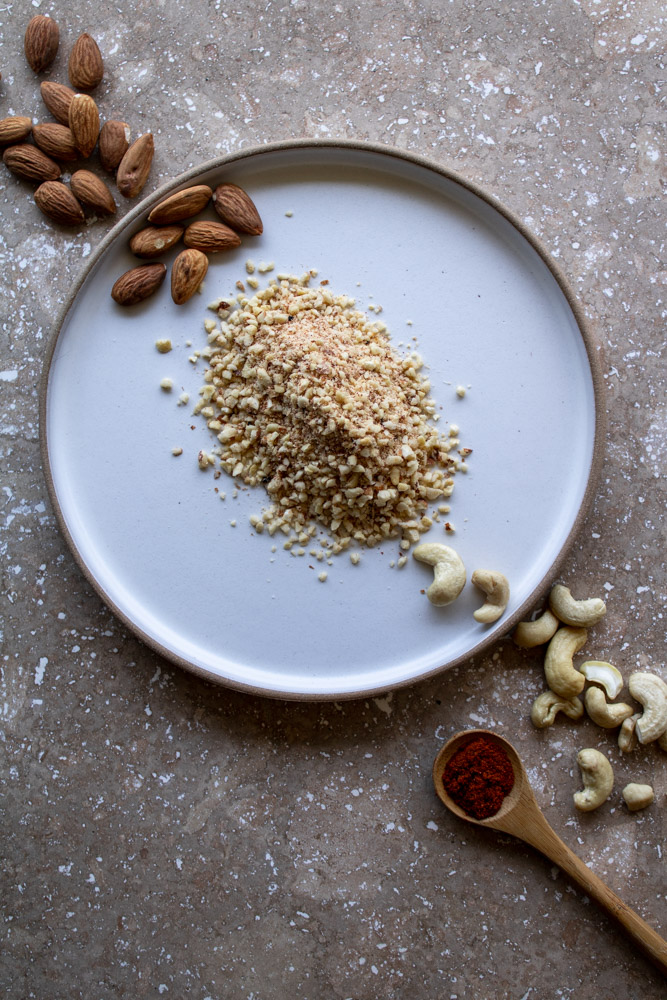 Macros Per Serving
*(Per Cutlet Piece)
Total Calories – 150 Calories
Proteins – 3 grams
Carbs – 15 grams
Fiber – 5 grams
Healthy Fats – 5 grams
Nut Crumbs – The Oil Replacement Technique
We all need fats for energy, to support cell growth, to keep our cholesterol & blood pressure under control.
Apart from this, healthy fats aid better joint lubrication and also help the body absorb all essential vital nutrients.
Now many of you will think, seriously…!? Is this recipe is even possible without oil?
As mentioned above, this recipe is weight loss friendly and it's a sattvic recipe.
Hence, we are not going to add any type of processed oils or ghee to this recipe.
For healthy fats, we will use fats from Nuts as natural oils. Yes, this recipe is possible with Nut Crumbs.
Just like bread crumbs are used to coat a cutlet for crisp texture after deep frying, we will use nut crumbs as an oil replacement.
This version will not be super crispy or crunchy. Instead, it will taste very tender, soft, and light in your mouth.
Steps to make Nut Crumbs:
Add raw peanuts to a dry pan. On a low flame, slowly stirring constantly, toast the peanuts until the skin starts to separate. Peanut toasting usually takes 10 to 15 minutes.
Now, take the peanuts out and let them cool down to room temperature.
In the same pan, add remaining seeds like Sesame and Sunflower seeds. On a low flame, slowly stir constantly, and toast these until seeds start popping and become fragrant. Usually, it takes 5 to 8 minutes.
Again, let the seeds also cool down to room temperature.
As soon as the nuts and seeds are at room temperature, pour them all in a blender jar. Make a fine powder and, your nuts and seeds crumbs mix is ready. 
Steps To Make Sattvic Cutlet
1. Boil water in a steamer and place all the vegetables inside the steamer to fetch a soft texture. Steam for only 10 minutes on medium flame. Now, switch off the flame and let the vegetables rest in the steamer for the next 5 minutes.
2. Now take out the vegetables from your steamer and let them cool down to room temperature for the next 10 minutes.
3. After, all the veggies are cooled down. Separate peas from other veggies.
4. Take a mixing bowl, add all the steam-cooked vegetables (except peas) to the bowl and mash them roughly with your hands. Make sure not to over-mash them, just keep a few rough chunks of veggies.
5. Add quick oats, pink himalayan salt, black pepper, freshly chopped chilly, and coriander.
6. Now add those steamed whole peas and do not mash the peas. The whole texture of peas feels really good in this cutlet recipe.
7. Lastly, give all this a generous mix until well combined, and let this mixture rest on the side for 10 to 15 minutes.
8. The cutlet mix needs to rest because the oats will soak all the moisture from your vegetables, make the cutlet mix denser and less soggy.
9. Now apply few drops of water in your hand and start shaping your cutlets. Make sure you don't keep your cutlets too thick. This might increase the cooking time.
10. Generously roll the vegetable cutlets into the "Nut Crumbs Mix" and place them on a pre-heated skillet pan.
11. We need to cook these cutlets on the lowest flame for 10 minutes on each side.
12. After 20 minutes, you will see a golden outer crust. This is the time you simply take them off the flame.
13. Squeeze some fresh lime juice on top and serve fresh with a side salad.
The Bottom Line – Sattvic Cutlet Health Benefits
Sattvic cutlets are made with vegetables which will give you lots of Fiber. Fiber will help you keep your bowel movement smooth and constipation away.
These cutlets make a super-light lunch and dinner meal as they are super light on the stomach. After eating these you will never feel lazy or tired.
They have natural oils and fats, therefore in any case you won't be getting extra calories.
Consuming so many fresh vegetables in one meal makes its nutrients dense meal. Hence, this cutlet recipe will help you promote overall physical and mental functions that are important for overall body functions.